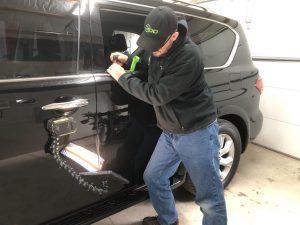 Sometimes major auto body work is not required to restore your damaged vehicle to excellent condition. Dent Buster specializes in Paintless Dent Repair (PDR), which, for certain types of damage, can return your car back to original condition without paint.
What Is Paintless Dent Repair?
Using special equipment Paintless Dent Repair, also known as Paintless Dent Removal, removes dents and dings without the need for sanding, body filler or auto paint, saving you time, labor and materials.
Paintless Dent Repair Works Best For*:
Low Impact Damage and Dents
Hail Damage
Bodyline Damage
Door Dings
Minor Creases
* Paintless dent repair will not work on all dents. Dents involving torn metal, sharp edges and scratches, or paint chips generally requires other repair methods.
How Paintless Dent Repair Works
Dent Buster will examine your vehicle and assess all damages. If a dent can be fixed through Paintless Dent Repair, we will recommend it.
At the start of the process, our technician locates the best access point to reach the damaged area. They then use specialized tools to slowly apply pressure that restores the metal's original position until the dent disappears. Because the paint isn't disturbed, no color matching is required.
Benefits of Paintless Dent Repair:
Faster repairs
Doesn't affect your vehicle's original paint
Can improve resale value
Insurance approved
Practically undetectable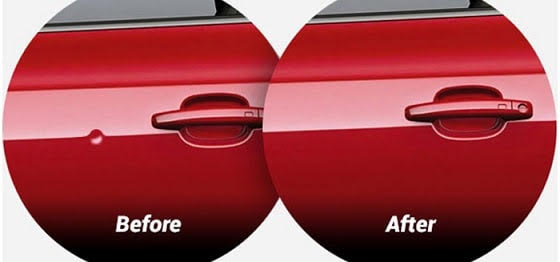 If your car has sustained hail damage, a door ding, etc. contact Dent Buster today for an appraisal. We'll restore your car's original appearance. Call us today at 631-747-3532 or 631-991-3033.