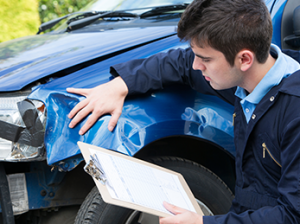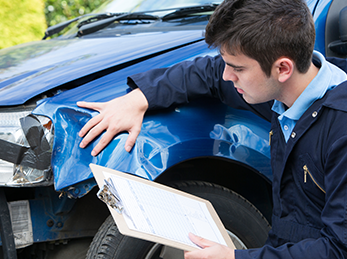 Dent Buster, Inc. specializes in high-quality collision and car repairs. Whether you had a minor accident or your car sustained major damage, Dent Buster will restore your vehicle to like-new condition.
We know that a car accident can be very stressful. The post-accident process shouldn't be comparable. At Dent Buster, we'll work with your insurance company to provide a speedy estimate, handle all necessary paperwork, and repair your car so you're back on the road as soon as possible.
At Dent Buster, Inc.'s conveniently located shop in Lindenhurst, NY, we have a state-of-the-art ICAR gold-certified car repair facility staffed by platinum-certified collision repair technicians who treat your car like it is their own. No matter the make and model, our repair specialists can restore your car to like-new condition, including all safety features such as airbags and crumple zones.
Our Collision Repair Process:
Repair Estimate

We inspect your vehicle and detail everything that needs to be repaired, both mechanical damage and body work, paying special attention to hidden damage to avoid potential problems down the road.

Repair Authorization

We submit the estimate for approval by your insurance company. You will also sign off on the repair authorization before work begins.

Disassembly

While disassembling your car for repairs, our ICAR platinum-certified techs look for any issues that couldn't have been seen in the prior estimate. If we do find something additional, we submit a supplemental damage report to your insurance company and conduct a re-inspection as needed.

Order Parts

All parts required to repair your car are ordered.

Structural & Mechanical Repair

Mechanical and structural repair begins, as needed, to bring the vehicle back up to factory specification standards.

Body Repair

Collisions virtually always require some body work repairs. Dent Buster, Inc. will perform all cosmetic repairs to ensure that your car also looks brand new when we're finished.

Paint and Finishing

Priming and painting begin with our expert color matching process. Clear coat is applied. Buffing and wet sanding ensures a perfect match to your factory original panels.

Reassembly

The car is reassembled as it enters the final stages of repair.

Cleaning

Post-repair cleaning takes place.

Inspection

Your vehicle is inspected and undergoes a test drive to ensure our exacting repair standards are met.

Detailing

Your car is detailed, ensuring that dirt from the repair process is removed, and your car is in pristine condition.

Your car is returned to you

Final paperwork is prepped, reviewed, and signed, and your car is ready for pick-up with a lifetime guarantee.
Through every step of the collision repair process, we will answer your questions and do everything necessary to ensure your satisfaction. If you have been in an accident and need collision repair, contact Dent Buster today for an appraisal. We'll restore your car's original appearance and get you back on the road as quickly as possible. Call our Lindenhurst, NY shop today at 631-747-3532 or 631-991-3033.